The BCF™ Bookstore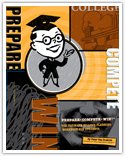 Prepare, Compete, Win!, The Ultimate College Planning Workbook for Students, 5th ed., 2017
Prepare, Compete, Win! is an interactive primer for students as they proceed through the college planning process. A range of exercises takes the student from the earliest stages of thinking about college to evaluating admission decisions and financial aid offers. The newly released 2017 edition also updates important information about financial aid and testing. This workbook is a proven classroom tool and valued college planning resource for individuals as well.

Learn how to Prepare, Compete, Win! can be a classroom resource for your school or organization. Click here for more information and a schedule of discounts for bulk purchases.
| | |
| --- | --- |
| Price: $20.00 | |
Book Reviews
"Your workbook, Prepare! Compete! Win!, helped our son work through issues and choices at an in-depth perspective. He 'tweaked' his admissions essays, pursued his passion and took the most challenging classes he could handle. You taught him how to stay on the 'playing field' and rise to the top.
Thank you for your excellent advice—it enabled us to look at college admission in a new light!" Valerie, Parent
We use Prepare! Compete! Win! with our students during the summer before their senior year. The students complete all of the worksheets and assignments, and we discuss their responses individually and in small groups. The topics covered generate lively and perceptive discussions with the students.
The workbook is really student-centered and makes the students feel empowered in regard to their college search process. It is extremely user-friendly, and breaks down the process into small, digestible chunks that are easily understood by adolescents.
Students respond to the fact that they are actually in charge of their own college process—that they will ultimately decide which colleges are their best fits. Once they get into the book, they like that it breaks down the search process into very simple steps. Generally, students are very stressed and overwhelmed at the prospect of finding the "right" colleges. Peter's approach definitely alleviates some of the anxiety. Students actually like doing the exercises and can't wait to talk about their ideas with their peers and with our staff.
I love that the book expands the concept of fit beyond academics, location and reputation. Traditionally, a counselor would ask a student what she wanted as a possible career and then select possible colleges based on that response. We know that does not work as most students change their minds and their majors more often than not. My favorite concept is that students need to select a college that will "offer a community that feels like home". This is often a breakthrough moment for them as they discover so much about themselves and their needs during this exercise."
Linda Perez, Program Coordinator/College Adviser, Achieve Program, San Francisco, CA
Sign Up for Newsletters & Blog Posting Updates