The BCF™ Bookstore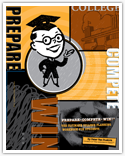 Prepare, Compete, Win!, The Ultimate College Planning Workbook for Students
Prepare, Compete, Win! (formerly The College Planning Workbook), 2014 is an interactive primer for students as they proceed through the college planning process. With a range of exercises that takes the student from the earliest stages of thinking about college to evaluating admission decisions and financial aid offers, this workbook is a proven classroom tool and valued college planning resource for individuals as well.

Click here to learn more about how Prepare, Compete, Win! can be a classroom resource for your school or organization.
| | |
| --- | --- |
| Price: $20.00 | |
Book Reviews
"Peter Van Buskirk speaks with the wisdom of both a veteran admission officer and a loving parent. Winning the College Admission Game offers valuable insight on the college search process for students and parents alike."
Ted Fiske Author, Fiske Guide to Colleges
"Winning the College Admission Game is fun to read and filled with insider information. Peter Van Buskirk provides insights to assist you in helping your son or daughter make that important decision about college. In particular, don't miss the 'Hidden Agenda,' 'behind the scenes of the admission committee,' and 'strategic nagging'."
William Bushaw, Executive Director, Phi Delta Kappa International
"Peter Van Buskirk was always one of the few admission deans who was willing to tell it like it is. His chapter on "What Colleges is Want" is a gem and could only have been written by someone who spent the better part of his career doing just that. As a school counselor myself, I am weary of books that sensationalize and distort the reality of the admission process. This one lifts back the curtain on college admission and also gives sound counseling that will help both parents and students keep their feet on the ground. Highly recommended."
Bruce Hammond, Sandia Preparatory School
"Finally, a student-centered approach to getting into college! Peter goes inside the process and tells it like it is. His ability to engage both the parents and the students with meaningful solutions makes this a 'must read' for families getting started in the college admission process. I am sure that college access professionals engaged in the work of the National Council for Community and Education Partnerships (NCCEP) will find this resource guide helpful in guiding more low-income and minority students to gain access to postsecondary education."
Hector Garza, Ed.D., MPH, Former President, NCCEP
"If the process of college admission was a maze, this book would be the map to help navigate through it. With its helpful insights on how to keep organized, interviewing tips, essay writing tricks, and guidelines for Mom and Dad, this book would help the family "team" avoid dead ends."
Alissa Belcastro, Student
Sign Up for Newsletters & Blog Posting Updates