Resources for Students & Parents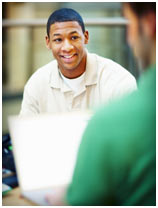 Finding and getting into colleges that fit you best requires strong self-awareness and a working knowledge of the processes surrounding college admission. The following resources provide tools to help you assess both your understanding of "self" and navigate the various processes you will encounter.
The College Planning Blog - Read the weekly postings of the College Planning Blog. Make sure you subscribe to The Monthly College Planning Tips as that subscription includes prompts of new blog postings—both are running commentaries that walk you through the college planning process.
BCF Bookstore - The BCF Bookstore includes a reservoir of student-centered resources that will ease the stress by laying out the process for you in detail.
Recommended Resources - Follow the links to sources of information we recommend based on their accuracy, as well as their capacity to expand your awareness of important information about the college admission process.
Sign Up for Newsletters & Blog Posting Updates