College Planning Blog - New Location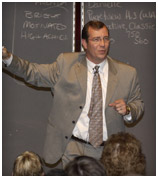 After 13 years of publishing weekly blogs on this website, Peter Van Buskirk is now partnering with Scoir, Inc, an innovative college search and application management platform. You can read Peter's blog articles and view webinar interviews with him on related topics at www.Scoir.com/blog.
Frequently Asked Questions
Q. How do I book an event?
A. Contact Peter at 717-808-5462 or Peter@BestCollegeFit.com.
Q. What do people have to say about Peter's programs?
A. Here is a sampling of testimonials. Please see Present/Past Clients and Testimonials for more.
"No one from my family has ever attended a four-year university before, so we are appreciative for your advice regarding this complicated process. I know so many other kids are going through the same turmoil as I am with regard to this whole "admissions game" and would benefit from your advice. I am so glad I attended your seminar, and thank you again for taking the time to set me on the right path."
-Student, Vineland, NJ
"I truly consider you a leader in the field, someone who tells it like it is. That is what sets you apart… I defer to you anytime!"
-Counselor, Bedford, NY
"Brilliant, passionate, fantastic! Thanks for breaking the code and sharing with us."
-Parent, Philadelphia, PA