Resources for Students & Parents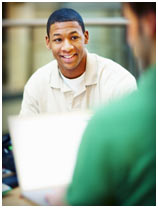 Finding and getting into colleges that fit you best requires strong self-awareness and a working knowledge of the processes surrounding college admission. The following resources provide tools to help you assess both your understanding of "self" and navigate the various processes you will encounter.
The College Planning Blog - Read the weekly postings of the College Planning Blog, a running commentary that walks you through the college planning process.
Recommended Resources - Follow the links to sources of information Peter recommends based on their accuracy, as well as their capacity to expand your awareness of important information about the college admission process.